Meißen
Porcelain- and Cathedral-town on the Elbe river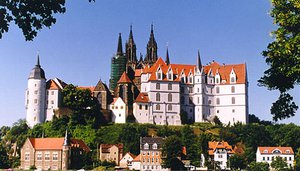 A visit in this 1000 year-old town, just 12 km away, can be a nice addition to your program in many ways.

While strolling through the medieval old town you will discover picturesque squares and lovely details, eventually arriving at the historical market place which is surrounded by tall, domestic style buildings according to the Gothic and Renaissance period. There you can also find the Late Gothic Frauenkirche (church of our Lady). Inside the church is the first playable porcelain glockenspiel in the world. Narrow alleys and stairs lead you up the castle mountain to the castle which was built in the year 929. The building project was concluded in the 15th century with the erection of the Late Gothic Albrechtsburg castle. Visit the cathedral with its figurines and altars. Look down from the castle mountain into the Elbe valley with its meadows and vineyards along the Saxon wine route nearby.
You should of course watch how the Meißen porcelain is made in the world famous factory and learn about the development of that porcelain in the hall of exhibits.

Conclude your Meißen-day in our hotel with a small festive dinner served on original Meißen porcelain along with a selection of Meißen wines.