Location & Environment
The Waldschaenke - in the middle of the cultural landscape
Heritage site
Built around the year 1770, the hotel restaurant Churfürstliche Waldschaenke is situated in the middle of the cultural Moritzburg landscape which constitutes a heritage site along with the hunting castle, the pheasant palace, the game reserve and the lighthouse at the Großteich-pond.
Forest, meadows, lakes, conservation area
The cultural Moritzburg landscape is characterized by a unique forest and lake landscape (conservation area), blending nature and culture together in the most perfect way. The traditions of the surrounding area, as well as the history of Saxon elector princes from centuries past (the Wettin family), are continued and make their presence felt in our house.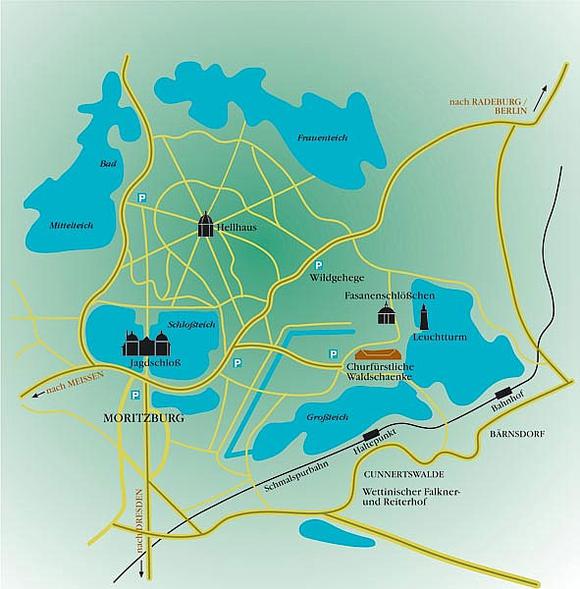 Residence- and State Capital Dresden, Meißen and Radebeul
The former residence of the Saxon kings und capital of the Free State of Saxony - as well as Meißen, the porcelain town – are just about 15 km away, Radebeul - the town of Karl May about 7 km. You can also go to Radebeul by narrow gauge railway train, built in 1884, which goes between Radebeul-Ost, Moritzburg and Radeburg. There is a train stop very close to our hotel at the Großteich-pond.
Entfernungen

| | |
| --- | --- |
| Dresden | 12 km |
| Meißen | 15 km |
| Airport Dresden / Klotzsche | 10 km |
| Train Station Dresden / Neustadt | 12 km |
| Motorway A 4 / DD Wilder Mann | 8 km |
| Motorway A 13 / Radeburg | 5 km |
| Saxon Switzerland | 45 km |
| Spreewald | 75 km |
| Prague | 170 km |