History
From a guard cottage to Churfürstliche Waldschaenke
1500
Already at the beginning of the 16th century, Duke Moritz of Saxony had a hunting castle erected on the peninsula of the Mosebruchteich-pond. The castle was later called Moritzburg after him.
1690
At the end of the 17th century, Elector Prince Johann Georg the Fourth laid out a park for keeping animals and for hunting purposes. About one hundred years later deer hunts took place in this famous Saxon hunting area.
1723
August the Strong tore down the hunting castle completely. In its place arose the representative baroque hunting castle", along with the parks and ponds, under supervision of Matthew Daniel Pöppelmann, the builder of the "Zwinger". This is the cultural Moritzburg landscape as we know it today.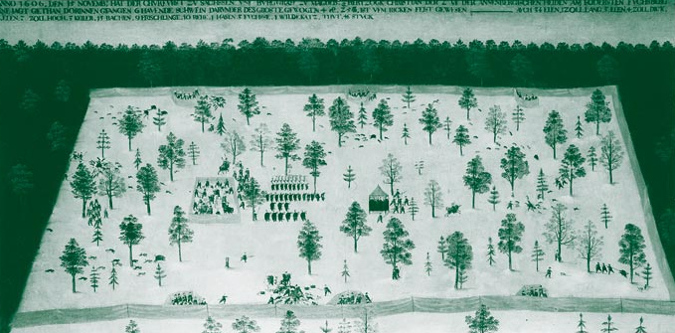 1926
The historical building of the Waldschaenke was rebuilt and enlarged and was a restaurant until 1945.
1967
A restoration and further enlargement of the building complex took place.
1992 bis 1995
The historical buildings were thoroughly renovated, taking into account factors for the preservation of the historical nature, as well as modernization according to today's standard.
1996
A new wing was added to the building complex (Moritz House) with large rooms – some of which have their own terrace. This new building fits well into the cultural landscape, blending into the heritage site of this conservation area. The historical character of the Waldschänke has remained unchanged due to carefully implemented reconstruction works.
Last but not least the long and ever changing history of the house is illustrated by the fact, that at first it was the elector princes and their successors (the Wettin family), later after the war and during the times of the divided Germany, others such as Erich Honecker, Franz-Joseph Strauß, as well as Fidel Castro, and in recent years, Kurt Biedenkopf and Kurt Masur have stayed in these historical rooms.