Travel distance
Travel distance to the Churfuerstliche Waldschaenke Moritzburg
Interactive map
Overview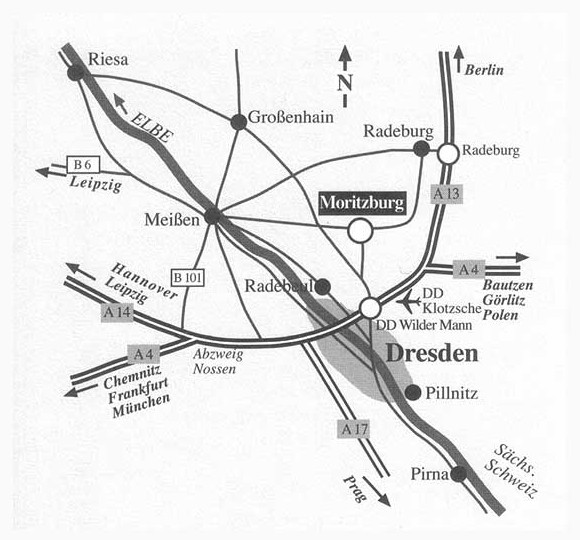 Moritzburg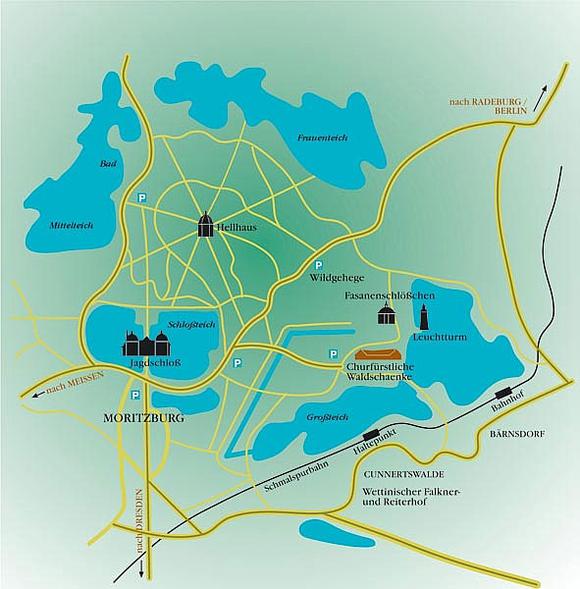 Arrival by car
From Berlin on the A 13 / take exit Nr. 21 - "Radeburg" – turn left and go towards Radeburg. At the first roundabout turn left und go 7 km to the second roundabout; there you go straight on towards Berbisdorf (keep straight at the intersection with the traffic lights), pass the railroad crossing without gates straight on to Berbisdorf, there you go 4 more kilometers to Moritzburg.

After you pass the "Wildgehege" on the left and before you get to the entrance sign of Moritzburg, turn left into the forest (just besides the parking lot and the wooden horse); after 1000 m you arrive at the parking lot of the Waldschaenke just opposite the hotel.

From Munich, Frankfurt/Main, Chemnitz and Leipzig on the A14 and A4, take exit Nr. 80 - "Dresden - Wilder Mann" turn right and go towards Moritzburg (about 10 km) through Boxdorf, which is part of Moritzburg, go all the way through Moritzburg to the baroque castle, there you turn right und after 500 m turn right again into the forest to the Waldschaenke.
Arrival by plane
The driving time by car from the airport Dresden/Klotzsche is about 15 minutes going via Boxdorf to Moritzburg.
Arrival by train
Deutsche Bahn has a stop at the station "Dresden/Neustadt" which is closer. An option is to go to "Dresden Hauptbahnhof" (main train station) and take the S-Bahn to "Dresden/Neustadt". There you can go by bus line Nr. 326 to the stop "Waldschaenke" (1000 m away from the hotel).
Taxi
We can also book a taxi for you.