Railway train
The narrow gauge railway train between Radebeul and Radeburg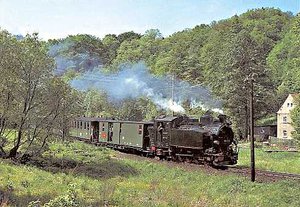 With full steam ahead...
In 1881 the Saxon government presented a plan to build a secondary narrow gauge railway train line from Radebeul along the narrow Lößnitz valley via Moritzburg to Radeburg. This train was supposed to provide an affordable connection to Dresden in view of the vivid agriculture and forestry as well as the industry of Radeburg. Up to that time, such a train was not possible on the existing street because of its steep slope. Construction started in October 1883 and on September 16th 1884 the 16.55 km long railway was put into service being the third Saxon narrow gauge railway line.

During the first years of operation there was decent number of recreational travellers to the pond area of Moritzburg, giving passenger traffic a share of 60 percent of the whole railway line. A highlight was the year 1913 when there were more than 400,000 travellers.