Radebeul
Saxon wine route and home of Karl May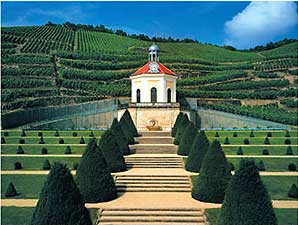 After just 5 km you will find yourself in the middle of the Saxon wine route, the smallest wine-growing region of Germany. Intertwined paths lead along vineyard walls toward old wineries, summer palaces, winegrower's farmhouses and mansions with oddly shaped towers, richly ornamented wrought-iron gates and many beautiful details.

The "Jahrestreppe" stairway with its 365 stairs, the longest stairway construction in Saxony, leads you up to the "Spitzhaus" with a unique panorama across Dresden and Saxon Switzerland. Visit the historical winery Hoflößnitz, with its museum of wine culture and of course the Schoppenstube restaurant where you may test wine samples from the Elbe valley. At the foot of the Lößnitz hillside there is the castle "Wackerbarths Ruh", location of the Saxon state winery which also offers wine and champagne testing.
Karl May - who hasn't heard and read about him - lived, wrote and died in Radebeul. Visit his last home "Villa Shatterhand" - today's Karl-May-museum - as well as "Villa Bärenfett" with its opulent Indian collection. Take one of the last narrow gauge railway trains in existence between Moritzburg and Radebeul and enjoy the romantic beauty of the Lößnitz and the Moritzburg lake area. Radebeul is also a nice hiking experience. Please request a route-plan at the front desk of our hotel.
Your day can end in our hotel with typical Saxon cuisine and wines from the Elbe valley.