Dresden
Capital of the Free State of Saxony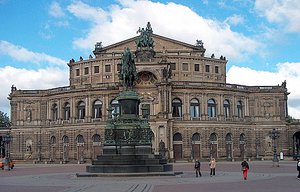 We certainly recommend that you take a trip to the internationally well-known city of art just 15 km away.

Dresden's international reputation is based upon the Wettins Friedrich August the First, called August the Strong, and his son Friedrich August the Second. The picturesque baroque buildings with their unique art collections, many of which once again show their original splendor, were erected by them.

Approach the city from the right side of the river Elbe and enjoy the fascinating Canaletto view. Visit the Zwinger, the art gallery "Alte Meister", the theater square with the Semper opera house and the largest church building of Saxony, the Catholic Hofkirche with its world famous Silbermann organ. You can stroll along the Brühl terrace enjoying the view far across the Elbe valley with its steep vineyards and romantic castles. You'll soon reach the "Albertinum" with the numismatic collection and the world famous exhibition of valuables "Grünes Gewölbe".

When you return to our hotel in the evening with its calm, cosy atmosphere, you will have found the right place to leisurely end your eventful day.