Foyer
The Foyer is located in between restaurant and meeting rooms, courtyard and terraces. Here, you can enjoy the second part of the astonishing hunting scene wall applications.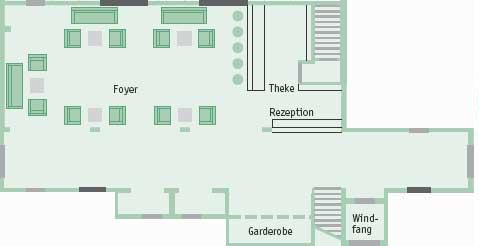 Details

| Size | Lenght and Width | Daylight | Pax. Indivdual Tables | Pax. Group Tables |
| --- | --- | --- | --- | --- |
| 72 qm | 10,60 x 6,80 m | yes | 25 | - |
The Foyer is located in the centre of all restaurants and meeting rooms. It originates with the ancient horse barn from 1770. In this communal area, you will find our receptiion and the bar. Its location, historic charme, and hunting atmosphere invite relaxed communication and create cosiness. When holding a meeting or having a party, you will be able to receive and greet your guests here. The Foyer leads to the Green Room, terraces, and courtyard.