Churfürstenzimmer (Duke's Residence)
This room, which belongs to the initial and original construction from 1770, is characterised by the famous wooden application displaying hunting scenes of Duke Johann Georg I.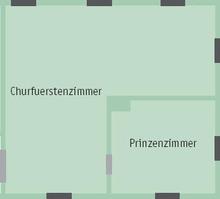 Details

| Size | Length | Daylight | Nr. Pax individual tables | Nr. Pax Group table |
| --- | --- | --- | --- | --- |
| 50 qm | 4,40 x 3,80 m 4,20 x 7,80 m | yes | 28 | 20 - 25 |
The 'Churfuerstenzimmer' (Duke's residence) and the aligned 'Prinzenzimmer' (Prince's residence) correspond directly to the ancient Guardian's house from 1770. Here, you can directly and authentically experience the history of the Duke of Saxony. The walls of the 'Prinzenzimmer' dsipose of rare and ancient original leather wallpaers from that era. The Churfuerstenzimmer hosts the famous wooden applications from Johann Georg I, displaying typical hunting scenes from that area. The atique oven made from ceramic from Meissen is also an eyecatcher.

The long and diverse history of these rooms becomes apparent due to the regular visits of the Duke, his successors, and the members of the famous Wettin family. After the Second World War, statesmen such as Erich Honecker, Franz-Josef Strauß, Fidel Castro, Kurt Biedenkopf and Kurt Masur also paid these historic rooms a visit.

The Churfuerstenzimmer is particularly suitable for festive events and private functions.
Seating Options and Examples