Business Meetings
Excellent Business Meetings
In our historical rooms or even outside. We give space for your ideas, plans and objectives.
The Waldschaenke offers you a variety of different rooms and locations of different sizes for your business meetings.
Your rooms for your meeting
Floor plan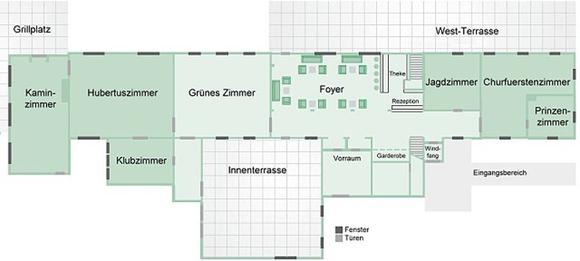 We surely have the right room for the your meeting
Room
Size (m2)
Length x width
Daylight
Person invididual tables
Persons group table
Churfuerstenzimmer
50 qm
4,40 x 3,80 m
4,20 x 7,80 m
yes
28
20 - 25
Prinzenzimmer
16 qm
4,20 m x 3,80 m
yes
6 - 8
-
Jagdzimmer
26 qm
5,20 x 5,10 m
yes
16 - 20
10 - 12
Foyer
72 qm
10,60 x 6,80 m
yes
25
-
Grünes Zimmer
71 qm
9,20 x 7,80 m
yes
42
-
Hubertuszimmer
70 qm
9,70 x 7,80 m
yes
52
different shapes
Klubzimmer
20 qm
6,00 x 4,40 m
yes
10
12
Kaminzimmer
57 qm
11,00 x 5,20 m
yes
20 - 25
up to 20
West-Terrasse
150 qm
24,00 x 6,25 m
yes
60
-
Innenterrasse
140 qm
12,00 x 11,70 m
yes
60
-
Grillplatz
144 qm
12,00 x 12,00 m
yes
40
-
You can find more detailed Information about these rooms by clicking on your selected room, or via:"
Raumangebote"
.
The cost for the provision of the rooms include cleaning, Setting up, seating of the rooms, as well as the provision of stndard technology
For an Event woth at least 15 participants, the room rent isreduced to 50%.
The rent includes the following Technology:
1 Speaker's desk,
1 Video recording and TV,
1 Beamer (LGRD-JT-91),
1 LCD iiyama Prolite C 301 WT,
1 Speaker Yamaha RXV 750 TIT,
1 DVD Player Yamaha DVD-S550 TIT,
4 Speaker Bose AM10 III,
1 Overhead projektor,
1 Screen (2m x 2m),
2 Flip Charts and pin walls
Small Meetings and Conferences
For smaller conferences and private functions we also offer the following rooms to your own individual usage.

For your Business Meetings and conferences we also offer you to enjoy your meals in a seperate room, which we can reserve exclusively for you.
This room, directly connected to the Churfuerstenzimmer, is dominated by its original leather wall papers and antique caramic oven.
The special atmosphere of this room stems from hunting trophies, collected by princes and princesses.
The unique character of this room stems from the wooden applications on the wall, the cabinet which contains selected pieces of the precious porcelaine from Meissen, as well as the beautiful lead crystal windows.
Talk to us. We look forward to your visit!